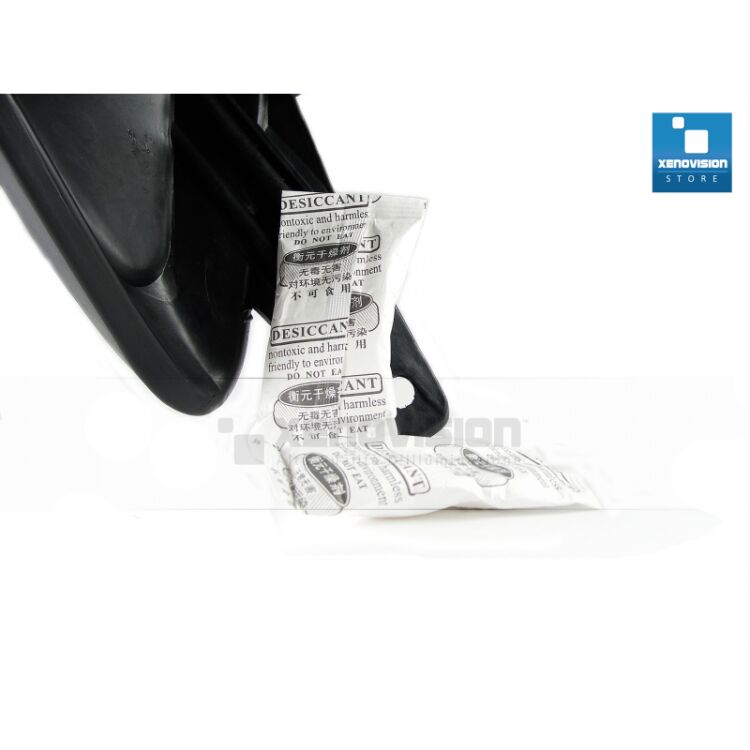 [FINE SERIE] - Coppia Silica Gel Bustine Anticondensa Assorbi Umidità per Retrofit HID
---
---
Description

Tech specs

Questions & Answers

Compatibility

Reviews (0)
Utili: Diciamocelo, non c'è nulla di più antiestetico che la condensa all'interno di un faro - specialmente dopo un Retrofit HID. Spesso anche una goccia di umidità è sufficiente a far appannare una lente di un proiettore lenticolare quando si scalda, e una quantità anche di poco maggiore può tradursi in un antiestetico effetto condensa sulla calotta del faro. Anche con un faro ben sigillato può formarsi condensa all'interno: è sufficiente che entri aria umida, magari dal tappo posteriore, o magari quando avete rimontato il faro dopo aver effettuato il Retrofit.

Il tocco finale: Con l'aggiunta di alcune bustine di Silica Gel all'interno dei fari queste stabilizzeranno l'umidità all'interno assorbendola completamente in meno di 2 ore, e manterranno l'ambiente interno asciutto per mesi. Anche a massima saturazione una volta esaurita la capacità assorbente, resteranno asciutte e non rilasceranno nel faro l'umidità assorbita nel tempo.
Consigliamo caldamente di inserirle sempre in ogni faro alla fine di un Retrofit: qualunque sia l'ambiente dove avete effettuato il Retrofit infatti, il faro sarà sempre richiuso con aria mista a umidità al suo interno.
Meglio prevenire che curare, e inserendo un paio di bustine assorbenti nel faro avrete la tranquillità queste deumidificheranno completamente l'ambiente interno - rendendolo perfettamente asciutto per i mesi a venire. Se il faro è sigillato correttamente, questo garantirà l'assoluta assenza di condensa fino a quando i tappi non verranno riaperti (ad es per manutenzione / cambio lampade)
Senza contare che l'ambiente estremamente asciutto all'interno del faro allungherà la vita di tutte le componenti elettriche al suo interno.
Per una manuntezione perfetta del vostro Retrofit, suggeriamo di sostituire le bustine ad ogni riapertura del tappo posteriore (ad es per manutenzione).

Formato: Vendute in coppia, due bustine sono sufficienti per portare e mantenere i valori di umidità a 0% in un singolo faro. Per i migliori risultati posizionatene una sul fondo del faro e una vicino ai tappi di chiusura.
Puoi fidarti: Con la migliore reputazione su Internet per prodotti imbattibili, rapporto qualità prezzo e servizio di assistenza, Xenovision Italia è la scelta di entusiasti del Tuning e puristi dell'illuminazione. Ti invitiamo a contattarci oggi con le tue domande: che ti occorra un consiglio sul modello, abbia una domanda tecnica o una richiesta di grossi stock, il nostro staff tecnico è qui per aiutarti.

Il prezzo è riferito ad 1 Coppia di Bustine Assorbenti Silica Gel per Retrofit, sufficienti per deumidificare un faro. Per ordinarne di più, selezionate una quantità maggiore nel carrello.
0 reviews
5 out of 5 Stars!
---
Be the first to review this product!