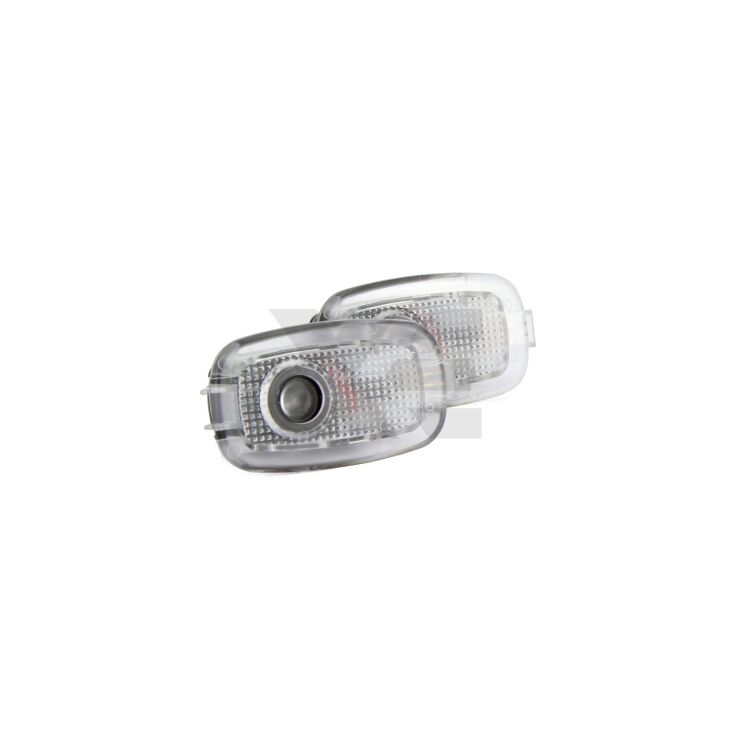 Kit Placche Led Sottoporta Proiettore Logo Mercedes AMG - Classe CL W216 Classe S W221
---
---
Description

Tech specs

Questions & Answers

Compatibility

Reviews (0)
Tocco di Classe: Queste luci proiettano il logo della vostra auto all'apertura della portiera, aggiungendo un bel tocco di classe! Il logo è luminosissimo e nitido, ben visibile e fornisce quindi anche un'ottima illuminazione sottoporta. L'illuminazione è fornita unicamente dal logo, poichè altre fonti luminose lo coprirebbero rendendolo non visibile. 

Efficace: Risultato brillante! Purtroppo in foto è difficile cogliere la resa visiva di queste placche che trasformano immediatamente la vostra auto in un prototipo futuristico grazie ad un potente Led CREE™ che illumina un disco trasparente su cui è stampato il logo a colori, non sostituibile con altre immagini. La placca è 100% canbus e non darà spie sul vostro cruscotto. 

Posizionemanto: Stessa dimensione delle placche originali che vanno a sostituire. Si montano in pochi minuti e il logo è orientabile per poterlo mostrare nella direzione che più vi piace: ad esempio può essere allineato con la porta, o essere orientato per essere perfattamente parallelo all'abitacolo quando la porta viene aperta completamente, e così via.
Installazione: Plug&play laddove previste placche sottoporta. I collegamenti elettrici sono perfettamente compatibili con i cablaggi originali dell'auto - non vi occorrerà nessuna modifica. Se la vostra auto non equipaggiasse placche di luce sottoporta (luci pozzanghera), è possibile installarle comunque ricavando artigianalmente un alloggio nella scocca e portando l'alimentazione dalle luci di cortesia. Il vostro installatore potrà realizzare per voi questa personalizzazione. 

Studiate per durare: Le placche sono di altissima qualità e impermeabili garantendo così una lunga durata ed un estetiva impareggiabile.

Nota: il prezzo è riferito a due placche Plug&Play (destra e sinistra), se la vostra auto equipaggia le luci sottoporta su tutte e 4 le porte e desiderate una conversione completa, occorre acquistare quantità "2" di questo prodotto. Vi preghiamo di confrontare le foto con le vostre plafoniere reali come ulteriore sicurezza. Queste placche consentono di orientare il logo a proprio piacimento, trovata la direzione preferita e quindi la centratura focale del logo stesso agendo sulla linguetta di regolazione, il tutto potrà essere tenuto fermo in posizione con della colla a caldo o del silicone. 
| | |
| --- | --- |
| Mercedes | Classe CL (W216) [ 2006+ ] |
| Mercedes | Classe S (W221) [ 2006+ ] |
| | |
| --- | --- |
| Luminosità | - |
| Impermeabile | Si |
| Larghezza | 35mm |
| Installazione | Plug&Play |
| Canbus | 100% Canbus, 0 Spie |
| Colore | Logo AMG |
| Garanzia | 2 Anni |
| Lunghezza | 60mm |
| Altezza | 24mm |
0 reviews
5 out of 5 Stars!
---
Be the first to review this product!