4x brighter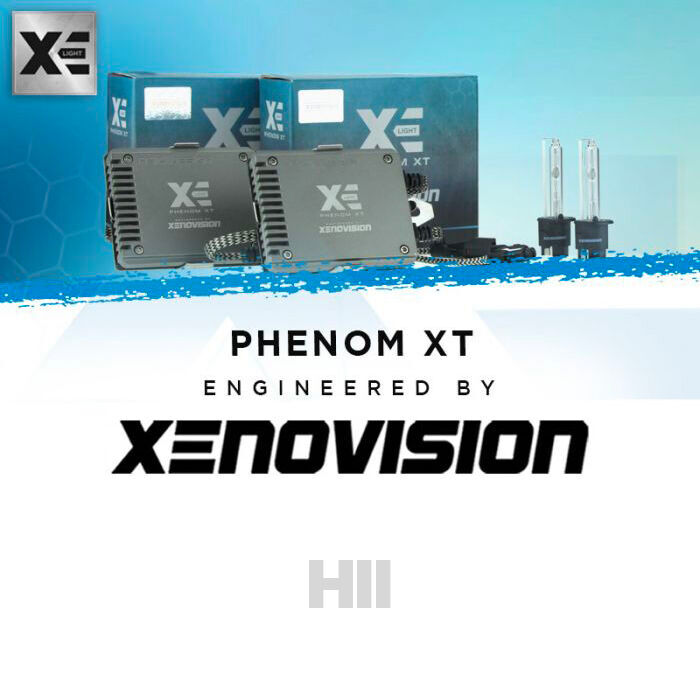 H11: Xenovision PhenomXT HID Kit System - Legendary Canbus
---
---
Description

Tech specs

Questions & Answers

Compatibility

Reviews (9)
If you found yourself not impressed by the Quality of the Xenon H11 Low-Cost Kits on the market, you are going to like in what we have to offer. Since 2005 we have been setting the High Quality standard in aftermarket Xenon lighting that others only try to imitate.
 
Maximum Quality: Your Xenon Kit is only as reliable as its weakest component. If you prefer an already reliable, tested, performing and lasting solution to save a few euros, our Xenon Kits are what you are looking for.
We have worked hard to develop a reputation for excellence in automotive lighting: choose Xenovision and we will show you (especially at night) why our xenon kits are number one in terms of Quality and Performance and are worth every dollar.
 
Xenovision Ballasts: includes two Xenovision PhenomXT 42W, our highest quality control units, for stability and performance at the levels of the original equipment. Equipped with insulation bracket and wire mesh wiring for maximum electromagnetic shielding. The ignition of the lamps is instantaneous, and the lamp heating cycle is super fast for maximum visual performance on the road within the first 3 seconds of ignition. 42Watt of Ultra Stable supply for even greater illumination of the lamps, in complete safety. Don't worry, this kit easily replaces a 35W xenon kit, 55W halogen bulbs and is compatible with your car.
 
Xenovision Lamps: Since its opening, Xenovision has come up with a line of Xenon bulbs that can steal the attention of the most trusted brands in the industry. DiamondPRO bulbs are the culmination of hard work, and it shows on the asphalt. A perfectly aligned 100% Philips quartz glass capsule containing the highest quality halide salts, sourced from the legendary German supplier Messer, provides a uniform clear white beam. When tested against the legendary brightness of Osram CBQ 5500K lamps, Xenovision bulbs produce nearly the same level of intensity.
 
Safe Wiring: While high-profile lamps and ballasts garner most of the attention, your Xenon kit is doomed if it doesn't equip quality wiring. Xenovision cables feature innovations such as dual 40A relays, very thick internal connections coated with a silicone shield plus a sturdy protective braid to give you maximum performance and reliability. The Plug & Play connections ensure that your Lamps and Control Units work with your original car connectors without the need for further modifications.
Canbus v3.0: Our HID Ballasts with proprietary 100% digital DSP 3.0 architecture, with Firmware and Circuits designed by Xenovision for maximum compatibility with zero-lights and side effects even on the most modern cars.
 
Maximum Quality / Price Ratio: Xenovision stands out from the mass sellers who flock to Amazon eBay and Google, targeting a market niche of demanding customers who demand the best on the market. When you buy a xenon xenovision kit, you can be sure that it is worth every dollar. We won't be the cheapest - but we guarantee you couldn't find a more performing and durable xenon kit on the market at the same or lower prices.
 
You can trust: With the best reputation on the internet for unbeatable products, value for money and customer service, Xenovision Italia is the choice of tuning enthusiasts and lighting purists. 
 
(Optional) Extended Warranty: Get peace of mind with the 3 year extended warranty option
 
Note: Depending on your specific country road regulations, aftermarket Xenon kits of any brand and vendor as well as other types of car modifications may not be intended for use on public roads. Sale is however intended for use on a private road or racing circuit, and customer is responsible of the final use destination. 
| | |
| --- | --- |
| Bulb socket | H11 |
| Color | 6000K Bianco Lunare |
| Radio Interferences | Zero |
| Ballast size | 90x70x13mm |
| Lens Headlights | Si, 100% |
| Reflector Headlights | Si, 100% |
| Canbus | Yes, Error-Free on 99.9% cars |
| | |
| --- | --- |
| Quality | Maximum. Guaranteed. |
| Road view vs. Stock bulbs | 4x volte più luce |
| Road view vs. 35W HID Xenon | 30% più luce |
| Power | 42W Super Stabile |
| Waterproof | Si, IP67 |
| Fast Start | Si, Instant On |
| Super Shielded | Si, anti EMC e interferenze |
| Ballast Architecture | 64-Bit, 100% Digital, AC, DSP |
| Voltage | 9-16 V |
2 x Xenovision PhenomXT Ballasts
2 x H11 Xenovision DiamondPRO Bulbs
Si! Se il tuo faro utilizza una singola lampada che funge contemporaneamente sia da anabbagliante che abbagliante (ad es. una lampada H4 su faro a parabola, oppure una lampada H7/H11/Hir2/Hb3/H11 su faro lenticolare con gioco di specchi che aprono il fascio di luce quando abbagli), manterrai la funzione anche con il Kit Xenon. La lampadina svolgerà senza problemi la doppia funzione di anabbagliante e abbagliante.
9 reviews
5 out of 5 Stars!
---