2.0x brighter
Fanless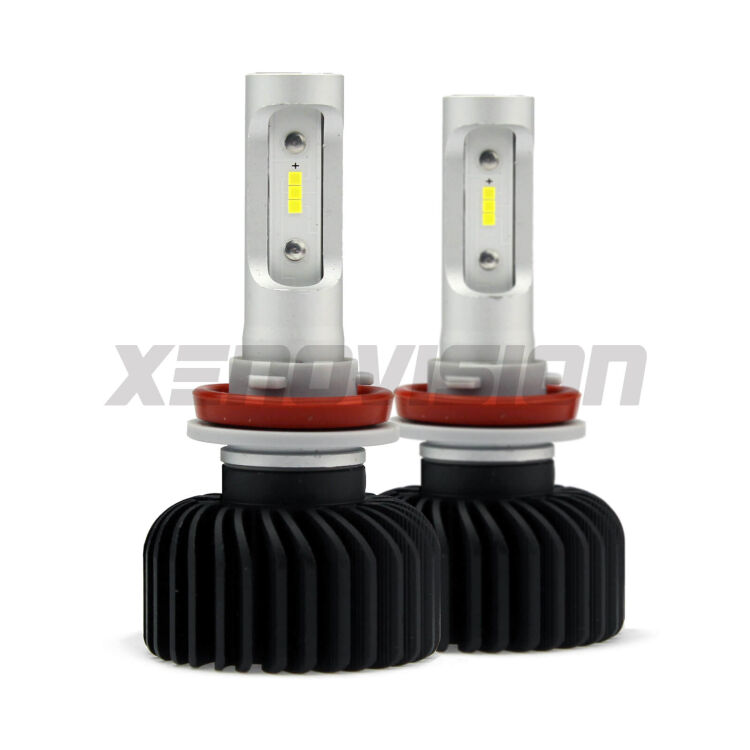 XPRO Twist: Lens and Reflector Headlights LED Kit 11.000Lm
---
---
Description

Tech specs

Questions & Answers

Compatibility

Reviews (0)
 
Same size as Halogen. Perfect Light Beam. Super Intense Brightness.

Extremely compact dimensions, almost identical to standard halogen bulbs.
Perfect light footprint, identical to the standard Halogen lamps on reflector headlights.
200% Brighter than standard halogen lamps.
Plug & Play installation on 99.9% of Headlights/Foglights.

Perfect Brightness: With two 25W rated LED chips, one for each lamp face, they achieve twice the brightness on the road compared to standard halogen lamps. Measured on a bench, in the same light, distance and beacon conditions, they measure 1244Lux against the 312Lux of halogen lamps. The light beam is full and homogeneous, and follows the exact shape of the standard halogen lamps when installed on reflector headlight or foglight. The two LED chips must always be vertical - so for those headlights where the bulb results angled after installation, simply use the supplied Allen key to release the bulb body, rotate the lamp body perfectly vertically, and then lock it again in position to maximize the light output.

Ultra-Compact Form Factor: An intelligent lamp temperature control system protects the lamps, combined with a solid copper core that maximizes the heat dissipation of the lamps. The heat is quickly spread from the LED chips to the rear heatsink, with a highly effective design. Long life: over 30,000 hours. The overall size of the bulb is incredibly small, yet very the heat dissipation is incredibly efficient.
 
Very High Construction Quality: Made with the best materials, through high precision industrial process, using aeronautical aluminum and solid copper core for maximum temperature management. Heat resistant. Resistant to corrosion. They can also be used as Fog Lights where the lamp back is exposed to air, moisture and external agents outside the spotlight - this won't bother the bulb at all.

Smart Circuit: These bulbs result Canbus- error-Free on 9 cars out of 10. In the case of Broken Bulb Warning Light, simply to add LED Canbus Filters. Compatible with 6-32V, they perfectly work in  light spots where the original Halogen is used as DRL light in Low Intensity mode and then as Low Beam on High Intensity. Also result compatible with any Truck or Van.

Buy with confidence: With the best reputation on the Internet for unbeatable products, value for money and service, Xenovision Italia is the choice of tuning enthusiasts and lighting purists. We invite you to contact us today with your questions: whether you need advice on the model, have a technical question or request a large stock, our technical staff is here to help you.

** After installation please leave a review and send us your photos indicating your car model! **

Tech Specs:

- 2 Superbright Latest Generation 25W LED chips, one on each face of the LED.
- 5700K Color - Perfect for example on Fog lights / High beam in combination with our powerful Xenovision X-PRO on Low Beams
- 9000Lumen of luminous efficiency, 16Watt of real absorption.
- At least twice as much light on the road compared to standard halogen lamps.
- Passive,fanless, super efficient heat dissipation.
- Operating from -45 ° C to + 85 ° C
- Electromagnetic Anti-interference System S95 / 54 / EC.
- Short Circuit Protection (Reverse Polarity)
- Canbus on almost all cars, in case of errors simply add LED canbus filters.
- Intelligent Stabilization Circuit, 6-32V, DRL Function and smooth dimming feature are preserved. 
- Compatible with both Cars and Trucks.

Dimensions of H11 model (100% Compatible with H10 / H9 / H8 / H16):
- Total lamp length: 75mm
- Length of the lighting body: 45mm
- Diameter of the lighting body: 16mm
- Diameter of the heat sink: 29mm
- Plug lamp width included: 45mm

Dimensions of HB3 9005 model: (in design, soon available)
- Total lamp length:
- Length of the lighting body:
- Diameter of the lighting body:
- Diameter of the heatsink:
- Plug lamp width included:

Dimensions of H7 model: (in production, available soon)
- Total lamp length: 71mm
- Length of the lighting body: 45mm
- Diameter of the lighting body: 16mm
- Diameter of the heatsink: 18.5mm
- Lamp plug width included: 18.5mm (excluding the H7 base, 100% identical to the original halogen)

Price is intended for 1 Pair of All-In-One LED Lamps.
| | |
| --- | --- |
| Fari a Parabola | Imbattibile! (Voto 10 su 10) |
| Ottimo per | Fendinebbia |
| Ottimo per | Anabbaglianti/Abbagliante H4 |
| Canbus | No-Spie su 95% delle Auto |
| Fari Lenticolari | Sconsigliato (Voto 6 su 10) |
| Ottimo anche per | Spazi ristretti, mezzi elettrici |
| Dimensioni | L 85mm x Ø 29mm |
| Interferenze Radio | Zero. |
| Dimensioni Driver | Incorporato nella lampada |
| | |
| --- | --- |
| Chip LED | CHIP CSP High-End Automotive |
| Lumen (Nominali) | 11000 |
| Voltaggio | 6 - 32V, Stabilizzato |
| Impermeabilità | IP67 |
| Colore | 6000K |
| Garanzia | 2 Anni |
| Dimmerabile | Si (Funzione DRL e Accensione Graduale) |
| | |
| --- | --- |
| 2x | Lampade All-In-One X-PRO Mini |
Questo modello in particolare, si! Essendo Fanless (senza ventola) non c'è alcun problema a montarle con dissipatore esposto a sporco, terra, fango, etc. Ricorda invece che i LED a ventola non devono mai aspirare sporcizia o si guastano in poco tempo. Con questi LED non hai bisogno di tappi maggiorati, e se desideri puoi anche rimuovere del tutto i tappi originali.
0 reviews
5 out of 5 Stars!
---
Be the first to review this product!